IEEE 22nd International Symposium on Modeling, Analysis and Simulation of Computer and Telecommunication Systems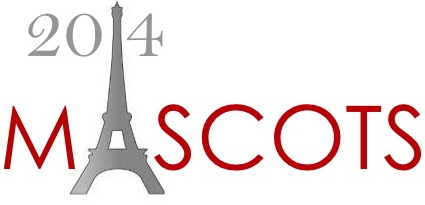 The MASCOTS conference invites submissions for tutorial proposals on all topics covered by the conference. The conference will host one- and two-session seminars, lasting 1.5 and 3 hours, respectively.
Each submission should include the following information:
the proposed seminar title
the preferred duration (1.5 or 3 hours)
an abstract
an outline detailing the scope and depth of coverage of the targeted topics
a short description of the intended audience
a short biography of the proposed presenter(s), along with contact information
if the seminar or an earlier version has been presented elsewhere, the proposal should indicate those respective events (and dates), and how the current proposal differs from other editions of the seminar.
A short description of the seminar (up to 4 pages) will be included in the conference proceedings. Seminar slides will be made available to conference participants and will need to be provided in advance of the conference.
Submissions
MASCOTS 2014 is using the EasyChair system. Submit manuscripts conforming to the guidelines given above.
Schedule
Tutorial proposals due: April 5, 2014 at 23:59 (Hawaii time)

Acceptance Notification: May 5, 2014

Final Camera-ready: June 5, 2014 June 15, 2014
Seminar slides due : September 2, 2014
Tutorial Chair:
Jalel Benothman  (Université Paris 13, France)